Although Las Vegas is known as the ultimate destination for urban misadventures there are reasons to visit the city that have little to do with gambling and boisterous revelry. As a hub for major airlines, Las Vegas has become a jump-off point for activities such as boating, fishing, hunting, rock-climbing, and even skiing.
With terrain ranging from alpine highlands and marshy lowlands to rocky canyon oases and arid desert grasslands, Nevada has loads of room for adventure. In fact, the state holds 57 wilderness areas, 11 state wildlife management areas and 7 National Wildlife Refuge Areas open to the public, many with camping sites. 1/6th of the 300 mountain ranges have a summit of over 9000 feet above sea level, resulting in 6 ski resorts.
Here are a few areas that offer easy access to outdoor adventure, yet are only an hour or so from Las Vegas. Keep in mind that because of the heat, most activities should be done from fall through spring.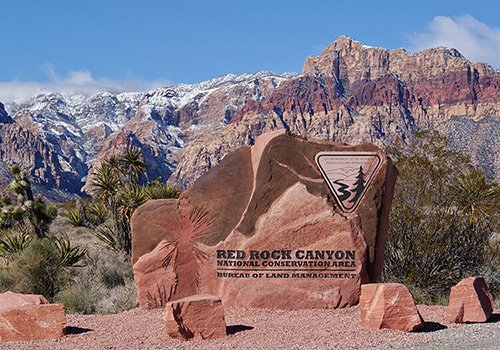 Red Rock Canyon National Conservation Area
A heavenly respite from cityscapes, Red Rock Canyon is 19 miles west of Las Vegas. Forces of nature have sculpted sandstone arches, natural bridges and monolithic gargoyle shapes. The canyon lands are painted in glazed-ceramic colors. Black, (iron oxide,) and white (dolomite and calcium carbonate,) are layered in some areas while other cliffs are composed of minerals straticulated in hues of reds, pinks and purples. Fossils and petroglyphs embellish the rock formations and on the canyon floors, little streams and waterfalls spill into pools to create unexpected green oases while on the slopes yucca, cactus and purple sage fade into verdant forests of juniper, pinion and ponderosa pine. This is home to roughly 100 species of birds and an abundance of wildlife which include big horn sheep, wild horses and burros.
For those who are moderately tough and in shape, there is a bike trail that runs 11 miles from Rainbow Boulevard on Charleston Blvd in Las Vegas west to the Red Rocks Canyon Visitors' Center. Once in the Conservation Area, there are amateur to expert off-road mountain-biking trails as well as the 13 mile scenic loop. The loop is one-way and can be hiked, biked or driven through. There are many foot trails that offer a wide variety of hiking terrain but all require good shoes and a map. The sandstone cliffs and rock formations offer small caves to explore as well as top-notch rock climbing opportunities.

The Spring Mountain National Recreation Area
Best known by its landmark peak, Mount Charleston, which stands 11,918 feet above sea level, Spring Mountain National Recreation Area is located about 35 miles northwest of Las Vegas. Its 316,000 acres includes 3 separate wilderness areas and provides numerous hiking trails and plenty of rock climbing opportunities set within craggy canyons and forests of ponderosa and bristle cone pines, watered by hundreds of natural springs.
The Spring Mountain Visitor Center on Kyle Canyon Road/NV 156 is open from 9 am to 4 pm daily and has trail guide brochures for hiking and rock climbing. Nearby are 7 campgrounds, three of which are open year-round, there are toilets, fire pits and a few RV hook-ups. Mount Charleston Resort and Mount Charleston Lodge are also close-by.
At an elevation of 7,717 feet the Lodge has a rustic look with a dining room that serves breakfast, lunch and dinner, a big bar and an open fire place in the middle of the room. Outside, there is a patio from which you can enjoy your food, drinks and the view.
The Resort on Mount Charleston is a rock and log chalet in a fabulous canyon setting. All the comforts of a good hotel are provided and breakfast, lunch and dinner are served in the restaurant. The lobby has a huge rock fireplace that entices weary and chilled guests to bask in its warmth.
The Las Vegas Ski and Snowboard Resort is located 9 miles farther down the road, (NV 158) or by driving 15 miles up NV 156 from Hwy 95. There are 2 chairlifts and more than a dozen trails, ranging from beginners to advanced levels. There are also several terrain parks for snowboarders. The resort offers a snack bar and a full array of clothing and equipment rentals.

Lake Mead National Recreation Area
For water sports, head in the opposite direction to Lake Mead National Recreation Area. The Lake Mead Visitor Center near Boulder City has information on all the activities and services in the area and the National Parks website also has info. Check with the visitor center for information on fishing licenses, launch permits and canoeing permits.
Lake Mead resulted from the building of the Hoover Dam during the great depression. 726 feet tall and 660 feet deep at its base, the dam's construction employed 5200 workers who completed the work 2 years early and 15 million dollars under-budget. This is the little gem that provides the water and electricity for all the wonders of Las Vegas. A little further south Lake Mohave was created by the formation of the Davis Dam. Together, the two lakes create 247 square miles of water in the middle of the American desert but drought and climate change are lowering shorelines and creating long-term water use issues. One interesting off-shoot of this is that the receding waters are exposing the once-flooded rural towns that had been evacuated for the construction of Hoover Dam. This seems to be creating another venue for exploration.
There are at least nine marinas that have camp sites available and these include Boulder Beach, Callville Bay, Cottonwood, Echo Bay, Katherine, Las Vegas Bay, Overton Beach, and Temple Bar. Many of the marinas rent power boats, pontoon boats, personal watercraft and watersports equipment. Echo Bay has fully equipped houseboats for rent and the marinas carry groceries, clothing and other supplies. Lake Mead Cruises offers a cruise on a Mississippi-style paddle wheel boat. Whether on the open deck or in a climate-controlled lounge, this is a leisurely way to enjoy the waterway and scenery. The mid-day, narrated cruise is less than $30.00 for one adult however the brunch and dinner cruises are a bit more expensive.
Be sure to check with each location and business about seasonal differences in prices and availability. When flying into Las Vegas and booking hotel rooms remember that weekends, holidays and special events will increase prices, so it's best to go mid-week and off-season.
[divider] Guest Contributor [/divider]
S.J. Lavold is a visual artist and author of articles on art, history and adventure in Montana. Her work has appeared in Montana Magazine, Yellowstone Woman Magazine, Outside Bozeman Magazine, and Art and Photography of Montana as well as others. Intimately familiar with ghost towns, hot springs and other hidden treasures in Montana, Wyoming, Idaho and Nevada, she has insights and info to share from decades of adventures.